---
The United States passed an infamous milestone within the past year with its 61 millionth abortion since Roe v. Wade, according to a new analysis.
The report by National Right to Life used yearly data from the pro-choice Guttmacher Institute, which contacts abortion clinics directly and is considered the gold standard for abortion clinic data.
The total number of abortions since the 1973 Roe v. Wade decision now stands at 61,628,584, according to the analysis, which was released Jan. 10.
The 61.6 million abortions represent the "consequences of Roe v. Wade," according to the report.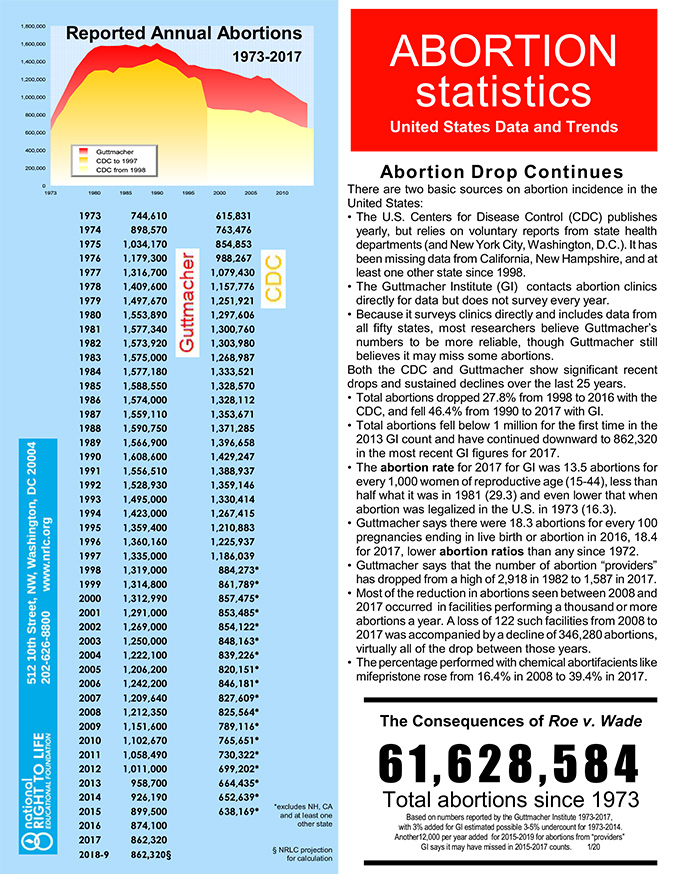 The U.S. Supreme Court released its Roe v. Wade decision on Jan. 22, 1973, legalizing abortion in all 50 states. Paired with a companion decision, Doe. v. Bolton, it permitted abortion through all nine months of a pregnancy for virtually any reason. 
The total number of abortions in the U.S. in 1973 was 744,610. That number topped 1 million in 1975 (1,034,170) and 1.5 million in 1980 (1,553,890), according to Guttmacher. The number of abortions in the United States peaked at 1,608,600 in 1990 before beginning to fall. The total number was 1,312,990 in 2000 and 1,102,670 in 2010. The number fell below 1 million in 2013 (958,700). In 2017, there were an estimated 862,320 abortions, according to Guttmacher.
National Right to Life says data from Guttmacher is more reliable than data from the U.S. Centers for…
… Read More

Click here to read the rest of the story from our content source/partners – Christian Headlines.
Tweet
WHAT DO YOU THINK?
- We have all sinned and deserve God's judgment. God, the Father, sent His only Son to satisfy that judgment for those who believe in Him. Jesus, the creator and eternal Son of God, who lived a sinless life, loves us so much that He died for our sins, taking the punishment that we deserve, was buried, and rose from the dead according to the Bible. If you truly believe and trust this in your heart, receiving Jesus alone as your Savior, declaring, "Jesus is Lord," you will be saved from judgment and spend eternity with God in heaven.


What is your response?

If you are not a Christian, and would like to become a Christian. Simply say - "LORD Jesus, thank you for forgiving me of my SINs, today I am deciding to follow you. Accept me into your family, in Jesus name I pray. Amen "

If you still have questions , click here to Contact Us, we are here to help
----
Unless otherwise specified, the news and opinions expressed are solely the source's and author's and do not necessarily reflect the views of The Christian Mail.
Christian News | Videos | The Christian Mail
---
Click here to Follow us:Follow @_ChristianMail & TheChristianMail on Ffacebook
---
---
---