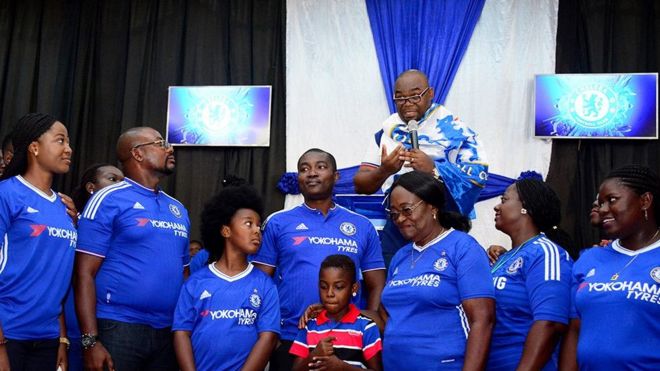 He told the BBC he wanted to use the power of football to talk about God
Azigiza also led the congregation in a verse of the Chelsea anthem Blue is the Colour.
The pastor, who at one time was a radio DJ, was also teasing his immediate boss at the Living Streams International Church, Reverend Dr Ebenezer Markwei, who is an Arsenal fan.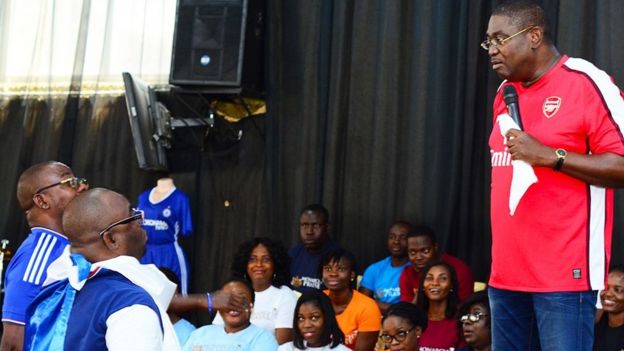 In his sermon, Pastor Markwei talked about "the good, the bad and the ugly of rivalry" suggesting that football fans should engage in friendly rivalry.
He said there was fellowship in rejoicing in others' successes, so when it is your turn others would do the same.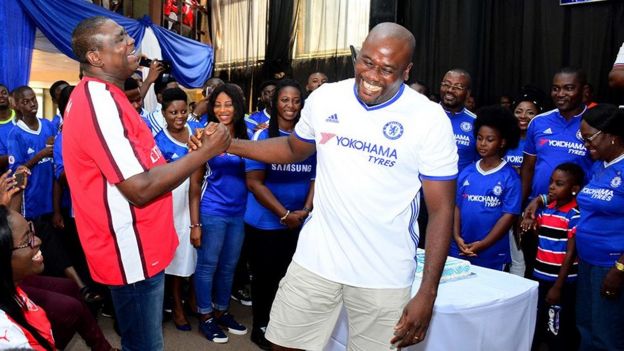 Fans of different teams were encouraged to embrace each other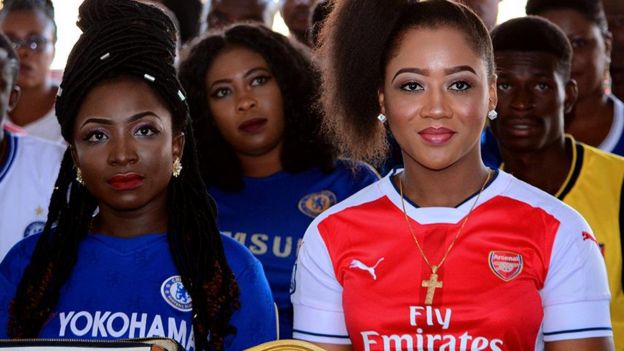 The one blemish in Chelsea's domestic season was that they lost the FA Cup Final – 2-1 to Arsenal.
But during the service Azigiza thanked God for Arsenal's victory "because it means that [Arsenal manager] Arsene Wenger will stay" and they cannot win the league with him, he said.
—




Fans of all teams were welcome to the service and Azigiza told the BBC that he wanted to defuse rivalry between supporters of different clubs.
Although, he added, they were reminded that Chelsea had just been crowned Premier League champions.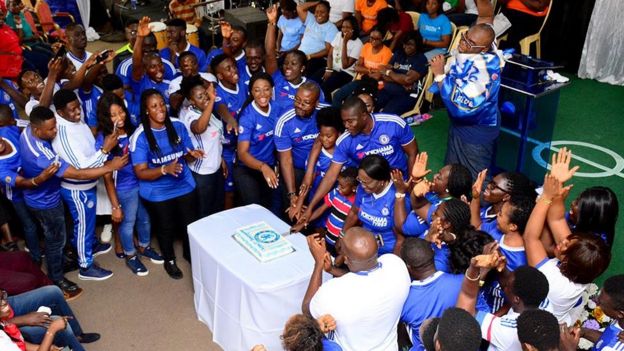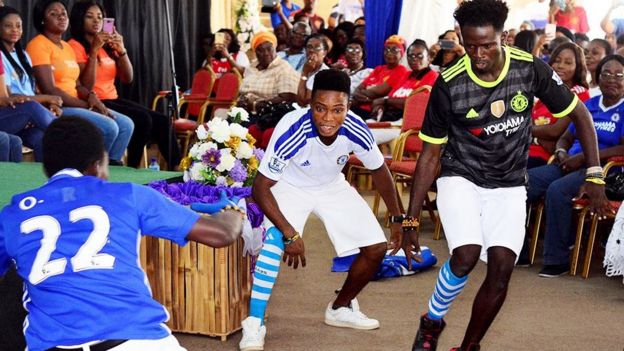 Chelsea won the Premier League in May with 93 points, seven ahead of their nearest rivals Tottenham … read more
Source : BBC News
Tweet
WHAT DO YOU THINK?
- We have all sinned and deserve God's judgment. God, the Father, sent His only Son to satisfy that judgment for those who believe in Him. Jesus, the creator and eternal Son of God, who lived a sinless life, loves us so much that He died for our sins, taking the punishment that we deserve, was buried, and rose from the dead according to the Bible. If you truly believe and trust this in your heart, receiving Jesus alone as your Savior, declaring, "Jesus is Lord," you will be saved from judgment and spend eternity with God in heaven.


What is your response?

If you are not a Christian, and would like to become a Christian. Simply say - "LORD Jesus, thank you for forgiving me of my SINs, today I am deciding to follow you. Accept me into your family, in Jesus name I pray. Amen "

If you still have questions , click here to Contact Us, we are here to help
----
Unless otherwise specified, the news and opinions expressed are solely the source's and author's and do not necessarily reflect the views of The Christian Mail.
Christian News | Videos | The Christian Mail
---
Click here to Follow us:Follow @_ChristianMail & TheChristianMail on Ffacebook
---
---
---