The Guardian reports – T
he Pixel C is Google's first own-brand tablet, designed and made via China by Google and is the best
Android
tablet available at the moment.
The Pixel C joins the Chromebook Pixel – the first piece of hardware designed solely by Google – but instead of running Chrome OS the Pixel C runs the latest version of Android 6.0 Marshmallow, making it the first tablet to do so.
The Pixel line is different to the various Nexus devices which are made in partnership with third-party manufacturers such as HTC, LG or Huawei. There, the manufacturer designs and builds the device, while Google sets some of the requirements and provides the software.
Monolithic aluminium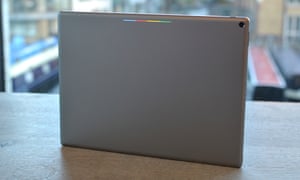 Google uses the Pixel brand to denote its own-brand machines. They all have a couple of things in common: a plain grey aluminium body, black frame around the glass touchscreen and a colour light strip in the rear of the lid that indicates when the device is on and the battery level. The Pixel C is the best made Android tablet to date. It feels solid and reassuring, with the same quality build of theChromebook Pixel.
It isn't the most ergonomic of tablets to hold with relatively hard edges, but it doesn't feel chunky despite being 7mm thick and weighing 517g. It is both thicker and heavier than rivals such as Apple's 6.1mm, 437g iPad Air 2 and Sony's 6.1mm, 389g Xperia Z4 Tablet, but it wasn't too heavy to hold and I didn't notice it in a bag.
The 10.2in quad HD screen is one of the best I have seen on a tablet with a pixel density of 308 pixels per inch, which is visibly sharper than Apple's iPad Air 2 with 264ppi, but very similar to Sony's 299ppi Z4 Tablet. It also one of the brightest, which makes viewing it outdoors easier … See More
Tweet
WHAT DO YOU THINK?
- We have all sinned and deserve God's judgment. God, the Father, sent His only Son to satisfy that judgment for those who believe in Him. Jesus, the creator and eternal Son of God, who lived a sinless life, loves us so much that He died for our sins, taking the punishment that we deserve, was buried, and rose from the dead according to the Bible. If you truly believe and trust this in your heart, receiving Jesus alone as your Savior, declaring, "Jesus is Lord," you will be saved from judgment and spend eternity with God in heaven.


What is your response?

If you are not a Christian, and would like to become a Christian. Simply say - "LORD Jesus, thank you for forgiving me of my SINs, today I am deciding to follow you. Accept me into your family, in Jesus name I pray. Amen "

If you still have questions , click here to Contact Us, we are here to help
----
Unless otherwise specified, the news and opinions expressed are solely the source's and author's and do not necessarily reflect the views of The Christian Mail.
Christian News | Videos | The Christian Mail
---
Click here to Follow us:Follow @_ChristianMail & TheChristianMail on Ffacebook
---
---
---