---
Kirk Franklin is opening up about his struggle with anxiety and depression in 2019 after what he called a "high amount of loss" in his life.
According to The Christian Post, Franklin posted a video detailing his struggles on his Instagram Friday.
"[In] 2019, I experienced a high amount of loss in my life. I went to more funerals in 2019 than I've ever been to in my life. I went to the funerals of friends, the funerals of people's parents and the funeral of people's kids and it was a lot," he said in the video.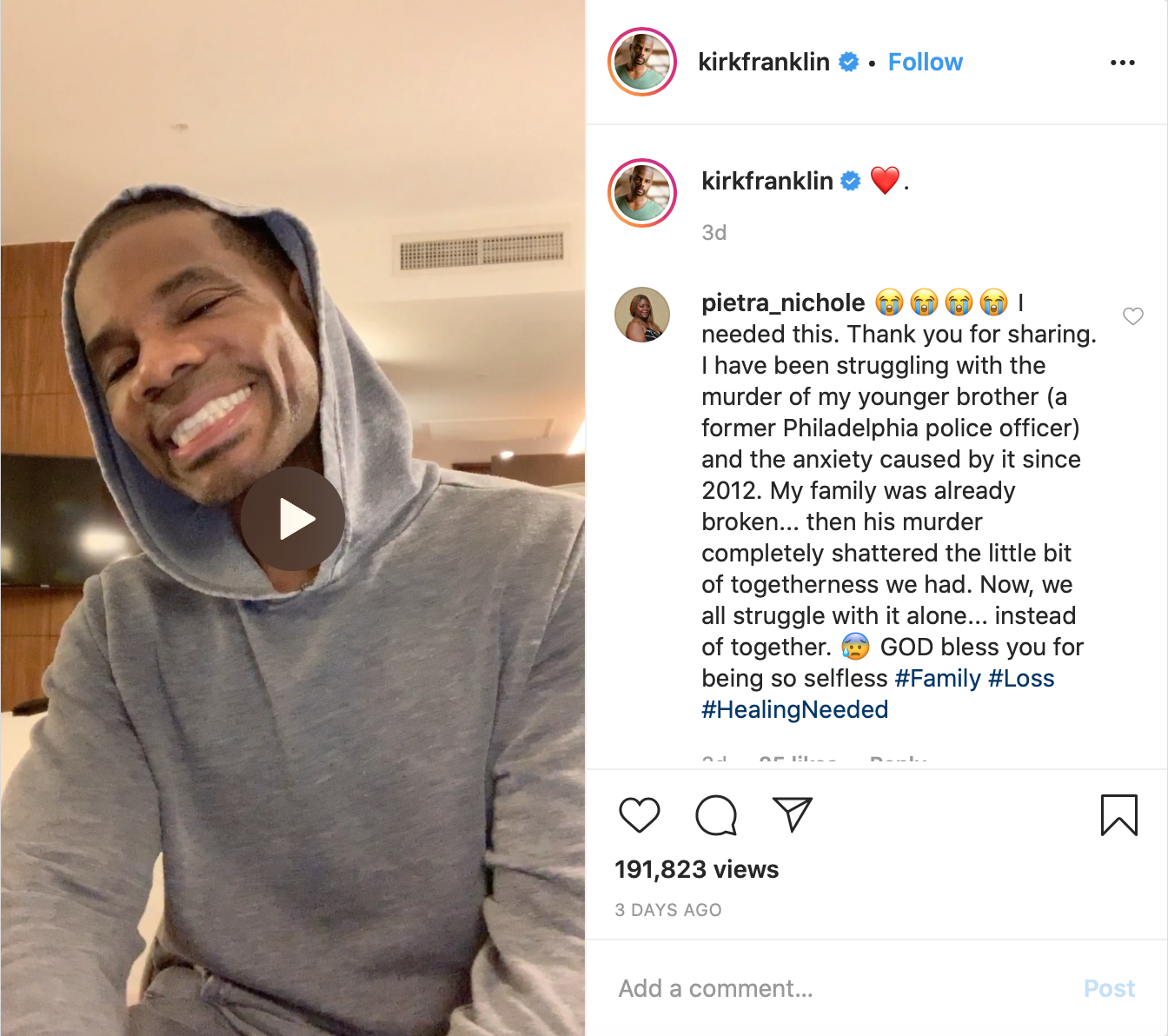 In recent months, Franklin helped support Tony Evans, who lost his wife to cancer in December. Franklin also supported fellow Christian music artist TobyMac, whose 21-year-old son unexpectedly died in October.
"It just really brought a lot of anxiety. To me, I really struggle with a lot of anxiety and really got into a funk that I couldn't really get out of. [It was] this just really dark funk, that I was in, depression, battling it. Not only that, just the anx (sic) that death can bring to you also is this anxiety about the future. It's a fear of who's next, what's next?" Franklin added.
The 49-year-old then noted that he has reached out to his therapist.
"I was just talking to him (his therapist) about being very anxious and very consumed with fear and worry and just the struggle with it all. He said, 'When I begin to live a life of gratitude, more gratitude then I will begin…
… Read More

Click here to read the rest of the story from our content source/partners – Christian Headlines.
Tweet
WHAT DO YOU THINK?
- We have all sinned and deserve God's judgment. God, the Father, sent His only Son to satisfy that judgment for those who believe in Him. Jesus, the creator and eternal Son of God, who lived a sinless life, loves us so much that He died for our sins, taking the punishment that we deserve, was buried, and rose from the dead according to the Bible. If you truly believe and trust this in your heart, receiving Jesus alone as your Savior, declaring, "Jesus is Lord," you will be saved from judgment and spend eternity with God in heaven.


What is your response?

If you are not a Christian, and would like to become a Christian. Simply say - "LORD Jesus, thank you for forgiving me of my SINs, today I am deciding to follow you. Accept me into your family, in Jesus name I pray. Amen "

If you still have questions , click here to Contact Us, we are here to help
----
Unless otherwise specified, the news and opinions expressed are solely the source's and author's and do not necessarily reflect the views of The Christian Mail.
Christian News | Videos | The Christian Mail
---
Click here to Follow us:Follow @_ChristianMail & TheChristianMail on Ffacebook
---
---
---