---
A majority of Protestant pastors say Jesus' return cannot be accelerated due to world events or evangelism, although their views on the issue vary greatly depending on the question, according to a new LifeWay Research survey.
The poll of 1,000 Protestant pastors was released Tuesday and found that 12 percent agreed that "Christians can speed up the return of Christ by supporting geopolitical changes mentioned in the Bible," while 80 percent disagreed and 8 percent weren't sure. 
Pastors' beliefs on the issue differed little between evangelical and mainline ministers, although there were some differences among ethnicities. 
Twenty percent of African American pastors but 11 percent of white pastors agreed that Christians can speed up Christ's return by supporting geopolitical changes. Among non-whites and non-blacks, 22 percent agreed.
Pastors 65 and older (16 percent) were more likely to agree with the statement than pastors ages 18 to 44 (9 percent).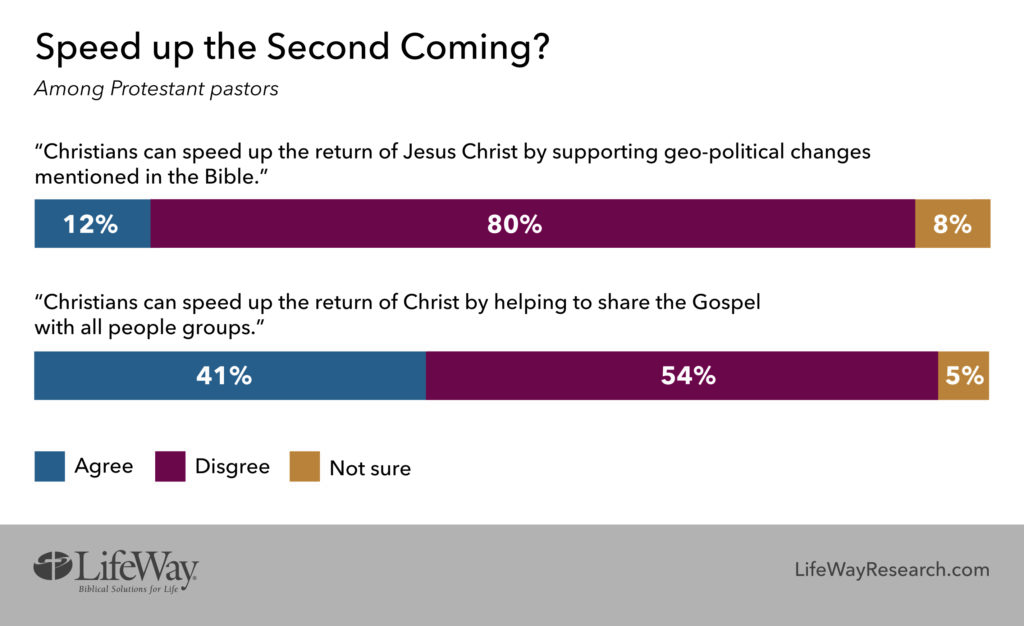 "While Scripture specifically says we cannot know the day or the hour of Jesus Christ's return, we were interested in pastors' views on whether Christians can play a role in bringing about that return any sooner," said Scott McConnell, executive director of LifeWay Research. "A large majority of pastors do not see biblical prophecies about future changes among nations as a roadmap for advocating specific…
… Read More

Click here to read the rest of the story from our content source/partners – Christian Headlines.
Tweet
WHAT DO YOU THINK?
- We have all sinned and deserve God's judgment. God, the Father, sent His only Son to satisfy that judgment for those who believe in Him. Jesus, the creator and eternal Son of God, who lived a sinless life, loves us so much that He died for our sins, taking the punishment that we deserve, was buried, and rose from the dead according to the Bible. If you truly believe and trust this in your heart, receiving Jesus alone as your Savior, declaring, "Jesus is Lord," you will be saved from judgment and spend eternity with God in heaven.


What is your response?

If you are not a Christian, and would like to become a Christian. Simply say - "LORD Jesus, thank you for forgiving me of my SINs, today I am deciding to follow you. Accept me into your family, in Jesus name I pray. Amen "

If you still have questions , click here to Contact Us, we are here to help
----
Unless otherwise specified, the news and opinions expressed are solely the source's and author's and do not necessarily reflect the views of The Christian Mail.
Christian News | Videos | The Christian Mail
---
Click here to Follow us:Follow @_ChristianMail & TheChristianMail on Ffacebook
---
---
---