---

Singer Ellie Goulding is threatening to withdraw from the Dallas Cowboys' Thanksgiving Day halftime performance unless the faith-based Salvation Army – the halftime show's sponsor – makes a pledge or donation to the LGBTQ community.

Thanksgiving Day is the traditional kickoff to the Salvation Army's Red Kettle Campaign, which runs through Christmas Eve and raised $142.7 million during the 2018 campaign. The funds help provide shelter and meals for the homeless and needy, and Christmas toys for children. 

The ministry has a section on its website saying it "is committed to serving the LGBTQ community" through job training, shelter, meals, help with substance abuse, and suicide prevention.

Goulding, though, wants more commitment from the Salvation Army. Her threat on Tuesday came after she posted an Instagram picture endorsing the Salvation Army and showing her volunteering in New York City. A few fans then claimed the ministry was anti-LGBTQ.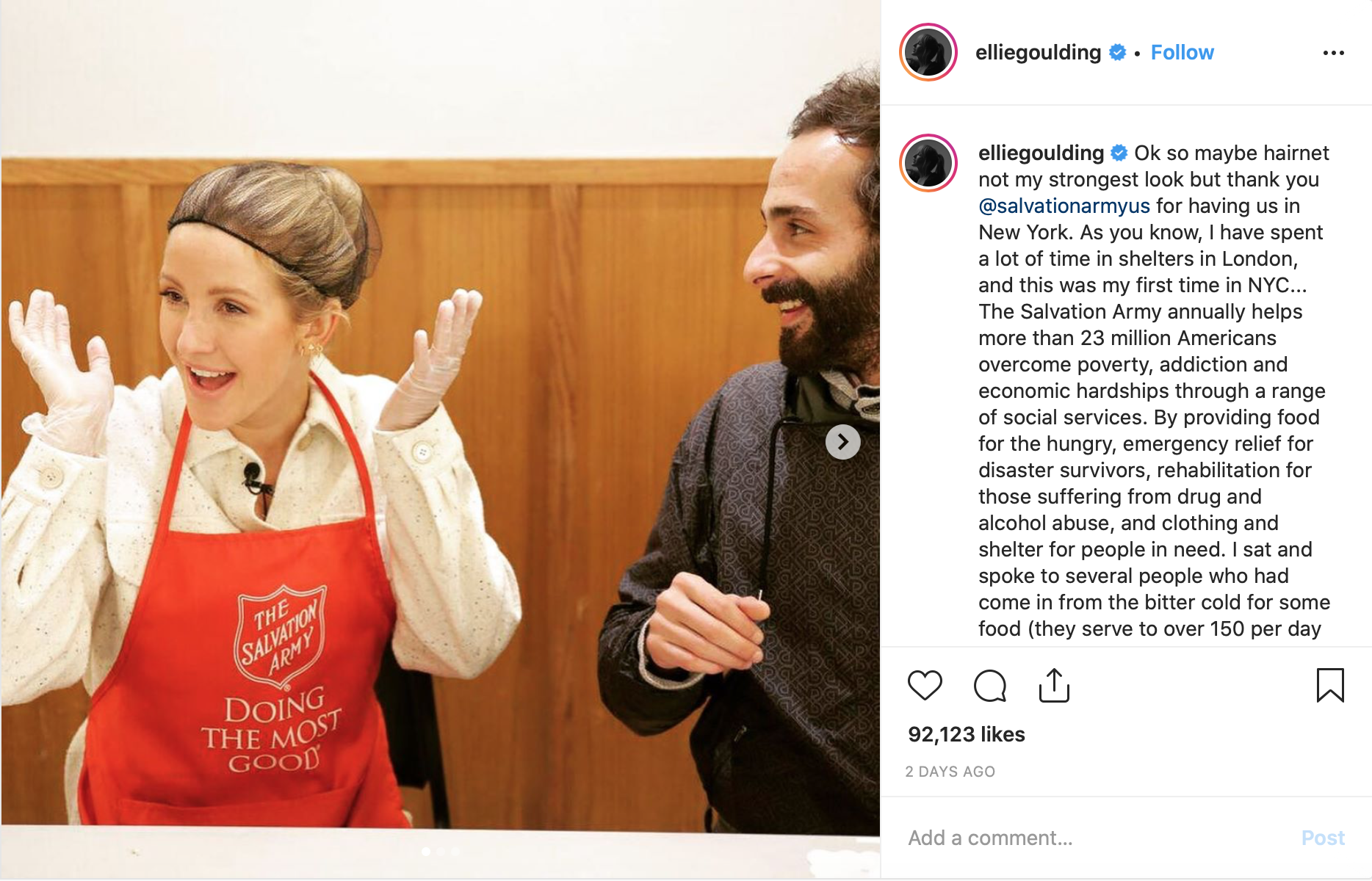 "Upon researching this, I have reached out to The Salvation Army and said that I would have no choice but to pull out unless they very quickly make a solid, committed pledge or donation to the LGBTQ community," Goulding wrote on Instagram. "I am a committed philanthropist as you probably know, and my heart has always been in helping the homeless, but supporting an anti-LGBTQ charity is…
… Read More

Click here to read the rest of the story from our content source/partners – Christian Headlines.
Tweet
WHAT DO YOU THINK?
- We have all sinned and deserve God's judgment. God, the Father, sent His only Son to satisfy that judgment for those who believe in Him. Jesus, the creator and eternal Son of God, who lived a sinless life, loves us so much that He died for our sins, taking the punishment that we deserve, was buried, and rose from the dead according to the Bible. If you truly believe and trust this in your heart, receiving Jesus alone as your Savior, declaring, "Jesus is Lord," you will be saved from judgment and spend eternity with God in heaven.


What is your response?

If you are not a Christian, and would like to become a Christian. Simply say - "LORD Jesus, thank you for forgiving me of my SINs, today I am deciding to follow you. Accept me into your family, in Jesus name I pray. Amen "

If you still have questions , click here to Contact Us, we are here to help
----
Unless otherwise specified, the news and opinions expressed are solely the source's and author's and do not necessarily reflect the views of The Christian Mail.
Christian News | Videos | The Christian Mail
---
Click here to Follow us:Follow @_ChristianMail & TheChristianMail on Ffacebook
---
---
---